ImproVO Foundations
Downloadable Workshop
Have Fun Learning with
Voice Talent / IMPROV Coach
Rebecca Haugh
DOWNLOAD RECORDING
Only $59
Includes video & audio recordings
plus all sides
Your Coach,
Rebecca Haugh ...

Working globally from her home recording studio, Rebecca breathes life into words. As a trained actor, the script is her 'world'.

Clients say: "Gotta love that Rebecca!"

Her voice can be heard on national and regional TV and radio commercials, corporate narration, eLearning, TV narration dubbing, as character voices, and in podcasts and phone systems.

Clients include projects for Apple, Netflix, San Pellgrino, NBC TV Universal, Google, Coca-Cola, Bayer, Nestle, GE, Macys and more.

Improv is Rebecca's other love.

She founded LoveThatImproVO - the only online training for voice actors to learn and practice improvisation and apply it to voice-over.

Since 2013, she has been improvising via online workouts and training 45 weeks per year.

What They Say About
Rebecca ...

"It's so much fun. I laugh until my face hurts. That said, it really does enhance my performance."
- Beverly Ann Astley

"Doing these improv workouts with Rebecca have been some of the best times I've had behind the mic! She is a wonderful teacher and so skilled and experienced at this, she makes it all look easy."
- Dave Clarke

"Why improv? When you embrace the 'yes and' mindset, it's surprising where it takes you! Rebecca has an encouraging manner that will help you learn and grow."
- Jen Gosnell

"These workouts are wonderful, comfortable venues to stretch your imagination beyond your Comfort Zone. They've helped me get closer to the "Don't Think, Just Do It" mindset, where your reaction skills are based on pure listening, contributing and heightening."
- Ken Foster

"So enjoyed how @VOimprov stretched my brain and acting chops yesterday! Following the weekly workout I came up with three character voices for a hospital spot, all convincingly different."
- Rosi Amador

What Attendees Said About This Webinar ...
'Absolutely awesome indeed' - PL

"Loved this! It has me jazzed to use it immediately and in all the ways I can work it. Thank you so much!' - KM

'It was so wonderful' - AL


'This has been amazing, and thank you so much. More tools for the toolkit!' - SA
So, Why Learn Improv?
Does the skill to act on the spur of the moment - without preparation - help you with voice-over? Yes, plenty.
YOU WILL LEARN ...
The

value of improv

to your voice-over performances and career
Where and how to

train in improv

for VO

VO situations that benefit from improv skills

- in scripts and without scripts

The difference between ad libbing and improv

Improv concepts

How to apply

improv to your VO performances

How to

practice on your own

And more!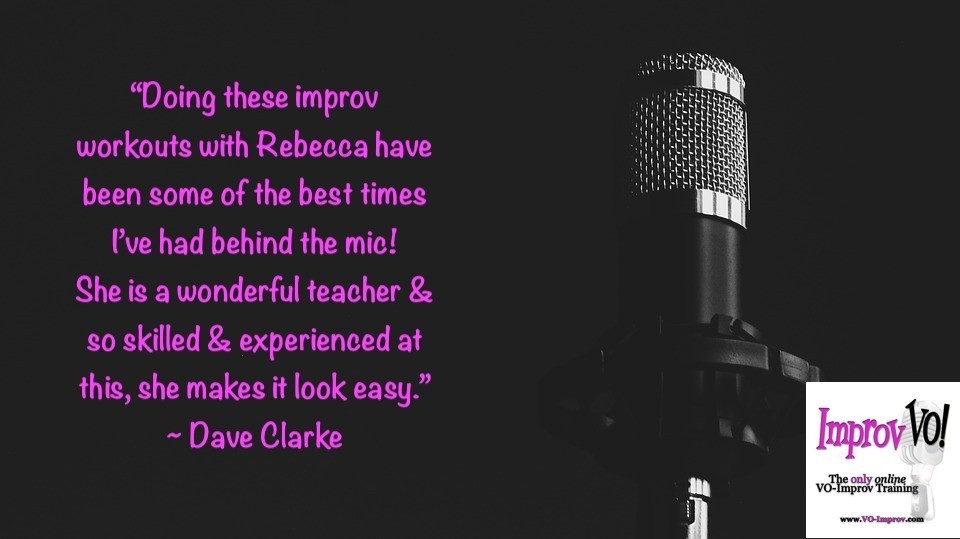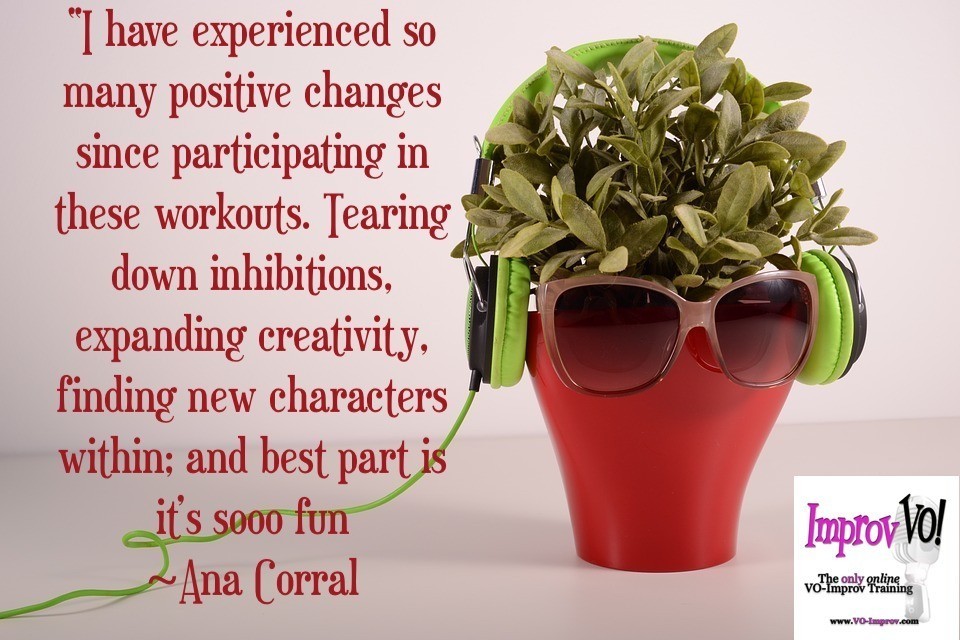 Acclaimed online improv coach Rebecca Haugh teaches, coaches and entertains us in this exclusive recording, designed to improve your voice-over performances - at any level of VO experience.
Discover how to

build a world for your script

Learn how to

customize "who you are" and "who you're talking to" in a VO script
Only $59
video & audio recordings plus all slides